Attractions to visit whilst staying at The Cleveland Bed & Breakfast.....
COVID19-PLEASE NOTE: Please visit each attractions website, or call them directly, to get the most up to date information regarding their revised opening times, booking requirements, and COVID Secure procedures. To avoid disappointment, pre-booking will be essential.
Babbacombe Model Village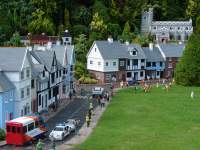 Hundreds of models are on display featuring many architectural styles including Medieval, Tudor, Georgian and Victorian, along with many familiar scenes such as the picture-postcard thatched village and the iconic Stonehenge.
The model village looks beautiful during the day but during late opening from dusk, thousands of miniature lights create a truly magical and enchanting atmosphere. You can see inside many of the tiny houses, even the streets have lamps and cars with working lights. Use the free 7 day return to visit day & evenings - One Ticket - Two Great Visits!
Greenway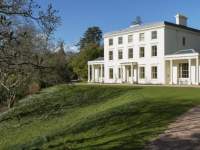 Greenway was the holiday home of Agatha Christie and her family. Now cared for by The National Trust, Greenway gives a unique insight into the life of this much-loved author.
The gardens are extensive and beautifully cared for with every view out over the River Dart even more inspiring.
A truly beautiful place to visit. Parking must be pre-booked, or take the steam train or river cruise for really memorable day out.
Becky Falls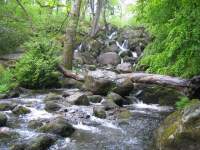 Becky Falls is a 40 minute drive from The Cleveland, in the heart of Dartmoor National Park. Nature trails, rock scrambling, petting zoo and cafe – a great place to let the kids go wild (or the inner child in you!).
Cockington Court & Village, Cockington, Torquay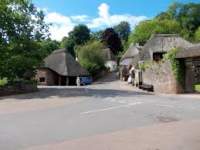 Welcome to Cockington Court - A craft centre with a difference
Cockington Court is one of Torbay's favourite destinations, combining history with present day through a thriving craft centre and a popular programme of events. The site enjoys a growing reputation as a regional centre for quality arts and crafts.
Set in an award-winning country park a mile away from the seafront, Cockington Court is an historic manor house with over twenty craft studios, tea rooms, walled art garden, tudor rose garden, contemporary art gallery and a popular children's play area.
Babbacombe Cliff Railway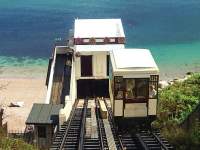 Take a Journey Back in Time
Built in 1926, the Babbacombe Cliff Railway has shuttled hundreds of thousands of holiday makers to and from Oddicombe Beach in over 84 years of service. Surrounded by some of the most breathtaking scenery to be found in the UK, the Cliff Railway provides a vital and non-exhausting way for locals and holiday makers alike to soak up the peaceful atmosphere and take in the amazing views as they travel to and from the waters edge.
Paignton Zoo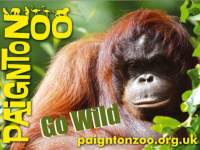 WELCOME TO PAIGNTON ZOO...
With over 2,000 animals across 80 acres – you're in for a really wild time at Paignton Zoo. Located in Devon, Paignton Zoo is one of the South West's most exciting visitor attractions. It's a place to roam, discover and get in touch with your inner animal. Get up close to some of the animal wonders of the world across our specially designed habitats - from the savannah to the wetlands and the tropical forest. Run wild in our play areas or hop aboard our unique Jungle Express train to get even closer to the action. We're also registered charity and part of a worldwide network of zoos which cares for and breeds rare species thanks to visitors who help fund the work. Come rain or shine Paignton Zoo is a fun filled day out for all the family, and you'll need all day to see it all.
Sea Kayak Torbay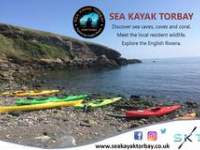 Discover Sea Caves, Coves and Coral
Boat Tours, Water Sports, Wildlife and Adventure
– Tasters / Half Days / Full Days / Courses / Wild Camps
When we think about it, what epitomises Torbay is the view from the sea. We are overwhelmed by
the sheer beauty and grandeur of the beautiful place we live in – and the geological history of what
makes Torbay the stupendous coastal adventure playground that it is. It's something rarely seen by
the average visitor, of course, but it's getting up close and personal to the multitude of rocks, coves,
caves and inlets making up the 20 miles and 22 beaches of Torbay's coastline that brings it all to life.
This is the foundation on which SKT is built: the sheer amazement at what Torbay's coastline has to
offer, our wish is to share with everyone the excitement we feel every time we go out.
Using luxury sea touring kayaks as a vehicle we are able to glide around the Riviera and access sea
cave, caverns and secret coves. We are a unique, adventure tour operator launching from any beach
within the English Riviera UNESCO Global Geopark. Our tours are for; solo travellers, couples,
families, friends or peers. Meet like-minded people in one of our small group tours or book your own
bespoke experience.
Our tours gained national attention in 2018, our first year of operation and we were awarded as 1 of
the top 20 Water Sports providers in the UK and regionally for Tourism Experience in South Devon.
Tours are guided by local expert Kieran Laureston who is passionate about delivering a truly
memorable experience, he has been taming the sea for beginners for many years and paddling and
sailing these shores since he was a Sea Scout.
There are 5 very distinct tour options for you; from the headlands we are likely to find Cetaceans, to
the Sea Horses and Seals of the backwaters and the Herons and Horses of our estuaries, there is
something for everyone. We will visit local nature reserves and paddle around the islands, stop on
secluded beaches tucked into secret coves, each with its own famous crime scene according to
Agatha Christie. Pick your beach, or let us advise, pack your lunch, or we can catch it as we go. We
can cook anything we catch on hot-stones and finish of with some toasted marshmallows.
Mackerel Fishing Trips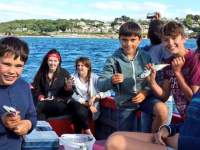 Mackerel fishing trips from Torquay
Our inshore Mackerel fishing trips run daily from the three Torbay ports* during the Mackerel season. Join us aboard our boats 'Funfish 1' or 'Sea Spray III' for a sea fishing trip to remember.
Our experienced captain will show you the ropes and will share with you his extensive fishing knowledge and life experience.
You will likely leave with as many fresh fish as you need, to take home, cook and enjoy; not to mention a giant smile on your face and a memory that will last a lifetime.
What does this fishing trip entail?
We will whisk you away on a 2 hour fishing trip from Brixham (one of the top earning fishing boat harbours in the UK), or Torquay to some of our prime fishing locations. On arrival the engine's switched off and the rods are dealt out! We supply all of our quality fishing equipment for free so that all you have to worry about supplying, is yourself.
Funfish Trips, Kiosk Site 4
(opposite Offshore Bar)
Vaughan Parade, Torquay, Torbay
South Devon, TQ2 5EG
Sunset Cruises from Torquay, Paignton & Brixham…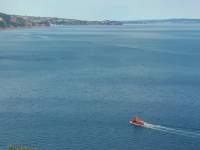 2¼ Hour Cruise, Dinner & a Drink… Sorted!
Join us for an evening cruise like no other… Relax as we cruise around close to the shore line, looking in the nooks and cranny's for wildlife on the way!
Let us deliver freshly prepared Rockfish™ Fish & Chips on board during the trip… We also throw in a free drink – making this the best value trip we have to offer… You'd be mad to miss it!
The Teignmouth Round Robin – from Torquay Harbour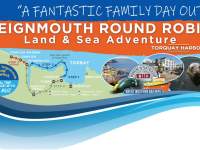 Our brand new day out, along an incredible shoreline.. Join the fun from Torquay Harbour.
Trip Overview – In short

Starts at Torquay Harbour (11:30am)
Great chance of spotting local wildlife during the coastal cruise.
Full commentary provided on board. Bar & Toilets available.
Land in Teignmouth 12:45… Stay as long as you like!
Optionally, visit Dawlish too!
Then take the GWR mainline back to Torquay.
Easy to book – by calling us on 0800 086 9450.
Kents Cavern
Kents Cavern is one of the most important Stone Age sites in Europe and one of Britain's best showcaves!
On your visit you'll go back to a time when the cave was home to ancient humans, sheltering from extreme weather, making fires, shaping tools and hunting Ice Age animals. As you walk through the extensive labyrinth of caverns, you'll be surrounded by 400 million year old rocks and spectacular stalagmites and stalactites.
Our entertaining cave guides tell the story of a 15 year long Victorian Excavation which uncovered some of Britain's most ancient secrets… All tours around the cave are guided and begin in the Vestibule Chamber, as you enter the cave you'll feel the temperature at a constant 14c. Your tour guide will lead you through the Long Arcade to reveal how the caves were formed 2.5 million years ago and how stalagmite floors formed, sealing in the evidence of Ice Age occupations. Down in the Rockies you'll see stalagmites and stalactites decorating this pretty chamber. Return through Clinnicks Gallery into the Cave of Inscriptions and the Labyrinth to see examples of the earliest tools ever found in Britain, along with bones and teeth of ancient Ice Age animals. Into the Bears Den to experience the famous Kents Cavern blackout, a favourite since the 1930s. Head down the Water Gallery and up to the Great Chamber with its exhibition dedicated to the Stone Age and Victorian excavators... Make sure you check the tour times page to plan your visit to Kents Cavern.
Bygones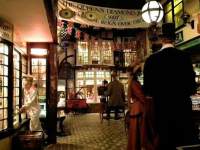 SEE, SMELL & HEAR THE BUSTLE OF BYGONES LIFE SIZE VICTORIAN STREET. EXPLORE 15 SHOPS AND 9 PERIOD ROOMS PACKED FULL OF AUTHENTIC DISPLAYS.
Immerse yourself in a genuine experience of the past. From the cobbled floor to the original signs and shops brimming with products, there's so much to see at the General Store, Sweet Shop, Lace shop, Blacksmith, Haberdashery & Milliner, Post office, Apothecary, Toy Shop, Bakery, Jeweller, Ironmonger, Grocer, Dolls Store, HMV Shop, Pawnbroker and Pub. Above the Street, you'll discover even more of the Victorian age as you walk through themed rooms from Nursery, Bedroom, Bathroom, Kitchen and Parlour. You can even visit the Victorian dentist and see a prison cell from the past.
Bigbury on Sea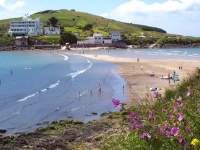 Bigbury is around an hours drive from The Cleveland, but boy is it worth it! Beautiful sandy beaches and stunning scenery.
Time your trip with the tides so that you can enjoy the walk across the sands to Burgh Island, or you can take the tractor across if the tide is in. Plenty of parking and a great little cafe – what more can you ask for?