Experiences, activities and adventure whilst staying at The Cleveland Bed & Breakfast.....
COVID19-PLEASE NOTE: Please visit each attractions website, or call them directly, to get the most up to date information regarding their revised opening times, booking requirements, and COVID Secure procedures. To avoid disappointment, pre-booking will be essential.
The Teignmouth Round Robin – from Torquay Harbour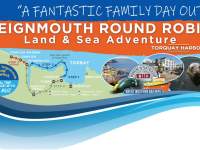 Our brand new day out, along an incredible shoreline.. Join the fun from Torquay Harbour.
Trip Overview – In short

Starts at Torquay Harbour (11:30am)
Great chance of spotting local wildlife during the coastal cruise.
Full commentary provided on board. Bar & Toilets available.
Land in Teignmouth 12:45… Stay as long as you like!
Optionally, visit Dawlish too!
Then take the GWR mainline back to Torquay.
Easy to book – by calling us on 0800 086 9450.
The English Riviera - England's Seafood Coast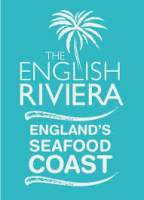 Named England's Seafood Coast for good reason, the English Riviera is home to the UK's finest seafood and the world-famous Brixham Fish Market, where some of the nation's best chefs source their seafood.
The Fish Market is the beating heart of England's Seafood Coast. Each year over £25million worth of fish is landed, making Brixham the biggest fishing port in England by value. The day's catch is sold in the only live fish auction in the UK, and you can take a unique early morning tour to watch the auction and learn more about the fish that lands on your plate (See our Brixham Fish Market Tour post for more information).
Luckily, for anyone visiting the English Riviera, local restaurants are dedicated to using the best local produce. Many of the finest examples stay right in south Devon's beautiful bay for you to enjoy.
Look out for...
The waters around Brixham are richly populated with a wide variety of marine life. Over 30 species are regularly landed, including gurnard, Dover sole, lemon sole, lobster, cuttlefish, hake, Brixham crab and renowned Elberry Cove Mussels.
The freshest fish you can get...
The busy fleet of local day fishing boats delivers to the fish market and local restaurants, ensuring fish is no more than 24 hours out of the sea. So you can enjoy your fish at its very best, whether it's the English classic fish and chips or part of a Michelin-starred tasting menu.
THE DARTMOUTH STEAM RAILWAY & RIVER BOAT COMPANY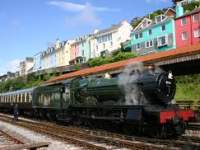 Based on the glorious South Devon coastline in South West England, enjoy your days out in Devon on our steam trains, boat trips and paddle steamer.
The only attraction in Devon that lets you enjoy the delights of Torquay, Paignton, Brixham, Dartmouth and the River Dart, Kingswear and Totnes on your day out!
The Round Robin
Our best seller, this famous and award winning tour is the best way to explore South Devon! Includes steam train, river boat and bus visiting the quaint towns of Paignton, Dartmouth and Totnes.
The South West Coast Path

Come to the beach anywhere in the South West of England, turn left or right and you'll be on the South West Coast Path and on the edge of an amazing experience.
Where else can you walk along 630 miles of such superb coastline which makes up the longest National Trail in the UK?
The heritage, wildlife, geology and scenery along the way are truly inspirational and every day walking it brings stunning new experiences.
Whether you're looking for an afternoon stroll to take you to a beautiful view, or for a challenge like no other in hiking the entire South West Coast Path National Trail of 630 miles from Somerset's Minehead around to the shores of Poole Harbour in Dorset, you've come to the right place!
Dartmoor National Park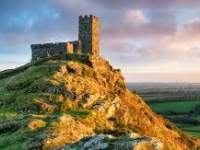 Welcome to Dartmoor National Park – all 368 square miles of it. From its striking granite tors and steep wooded river valleys, to swathes of heather-covered moorland and hidden villages, Dartmoor is a land of contrasts.
We recommend starting your trip on Dartmoor by visiting one of the award winning Visitor Centres. The friendly and knowledgeable, local staff can assist with making the most of your time on Dartmoor.
Wide, spectacular open vistas are a Dartmoor specialty but there is so much more to do here! Whether it's a gentle stroll, an exhilarating mountain bike ride or a visit to a castle- discover walking options, activities and locations on your Dartmoor doorstep.
With so much to see and do you will want to spend more time here
Greenway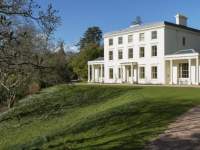 Greenway was the holiday home of Agatha Christie and her family. Now cared for by The National Trust, Greenway gives a unique insight into the life of this much-loved author.
The gardens are extensive and beautifully cared for with every view out over the River Dart even more inspiring.
A truly beautiful place to visit. Parking must be pre-booked, or take the steam train or river cruise for really memorable day out.
Brixham Fish Market Tours & Seafood Breakfast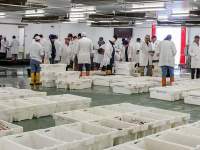 Now in it's 9th year, Brixham Fish Market Tours are still proving to be very popular, even with the very early start of 6am.
A chance to see behind the scenes and the hustle and bustle of the world famous Brixham Fish Market, culminating in a delicious fish breakfast at Rockfish.
Our fisherman's breakfast platter of:
Grilled bacon, smoked haddock, local scallop, market fish of the day, fried egg & toast, will be served with a cup of tea or coffee.
Brandy on request!
£15 per person - booking essential
6am Start, meet at the entrance to the fish market
Book early to avoid disappointment by e-mailing: bfmt2014@gmail.com
Please be aware that we are unable to accommodate wheelchairs or children under the age of 15yrs.
Berry Head, Brixham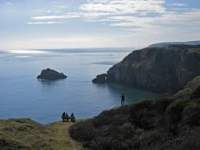 This stunning headland, with its iconic lighthouse and Napoleonic Fort, is surrounded by water on three sides and offers exceptional views across Torbay and beyond.
You can enjoy some superb coastal walks, spot wildlife on land and at sea, or simply relax in the award-winning Guardhouse Café.
Our Visitor Centre will tell you all about the Reserve, its history, wildlife and the work of Torbay Coast and Countryside Trust. Do check for opening times during off peak season.
This is a must-visit day out and is either a pleasant walk from up from Brixham or short drive to the visitor car park.
Jet Ski Safaris in Torbay with Jet Set Go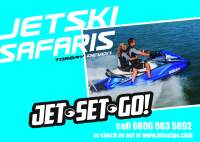 AN EXHILARATING RIDE OUT AT SEA ON A 2017 EX DELUXE YAMAHA
Explore the wonderful scenery of torbay!
Click here to read more...
Bringing the opportunity to experience the exhilarating sport of jet skiing to a wide audience in a safe environment. This is a unique way to explore the stunning surroundings of the English Riviera.
Suitable for: anyone over the age of 18 (or 14 if accompanied by an adult).
The one and a half hour sessions comprise of:
- a 30 minute safety talk
- an hour ride out at sea with a fully qualified instructor.
The two hour sessions comprise of:
- a 30 minute safety talk
- an hour and a half ride out at sea with a fully qualified instructor.
Safaris can be taken as:
- individuals
- groups of 4, sharing a ski with a friend taking it in turn at the controls.
Wet suits and buoyancy aids provided.
Find us at Torquay harbour. Look for the Jet Set Go! sign...
Give us a ring: 0800 083 5892
Email us: hello@jetsetgo.club
Coasteering in Torbay with Reach Outdoors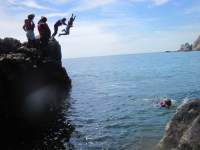 Jump from exhilarating heights! Let the sea pick you up and take you on a ride! Explore deep sea caves, and squeeze through gaps to discover Devon's hidden gems.
Reach Outdoor's guides will set the pace that suits your group and ensure that everyone is set a challenge that meets individual needs but allows the whole group to share the experience​. So if you're up for the challenge and keen for an adventure, look no further than Devon Coasteering with Reach Outdoors.
LOCATIONS
Reach Outdoors is based in Torbay in South Devon. We utilise the amazing limestone of Torbay for our coasteering. We have a site to suit all, from exhilarating jumps at Ansteys cove to secluded secret caves at Daddyhole, Torbay just has to be explored in a wetsuit.
Fancy something a little different? We can access places unknown to others on a Kayaking Coasteer day!
Get in touch: 01626 873625 or 07816 881 821
or email info@reach-outdoors.com
Sea Kayak Torbay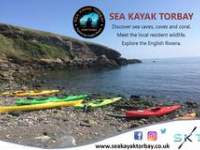 Discover Sea Caves, Coves and Coral
Boat Tours, Water Sports, Wildlife and Adventure
– Tasters / Half Days / Full Days / Courses / Wild Camps
When we think about it, what epitomises Torbay is the view from the sea. We are overwhelmed by
the sheer beauty and grandeur of the beautiful place we live in – and the geological history of what
makes Torbay the stupendous coastal adventure playground that it is. It's something rarely seen by
the average visitor, of course, but it's getting up close and personal to the multitude of rocks, coves,
caves and inlets making up the 20 miles and 22 beaches of Torbay's coastline that brings it all to life.
This is the foundation on which SKT is built: the sheer amazement at what Torbay's coastline has to
offer, our wish is to share with everyone the excitement we feel every time we go out.
Using luxury sea touring kayaks as a vehicle we are able to glide around the Riviera and access sea
cave, caverns and secret coves. We are a unique, adventure tour operator launching from any beach
within the English Riviera UNESCO Global Geopark. Our tours are for; solo travellers, couples,
families, friends or peers. Meet like-minded people in one of our small group tours or book your own
bespoke experience.
Our tours gained national attention in 2018, our first year of operation and we were awarded as 1 of
the top 20 Water Sports providers in the UK and regionally for Tourism Experience in South Devon.
Tours are guided by local expert Kieran Laureston who is passionate about delivering a truly
memorable experience, he has been taming the sea for beginners for many years and paddling and
sailing these shores since he was a Sea Scout.
There are 5 very distinct tour options for you; from the headlands we are likely to find Cetaceans, to
the Sea Horses and Seals of the backwaters and the Herons and Horses of our estuaries, there is
something for everyone. We will visit local nature reserves and paddle around the islands, stop on
secluded beaches tucked into secret coves, each with its own famous crime scene according to
Agatha Christie. Pick your beach, or let us advise, pack your lunch, or we can catch it as we go. We
can cook anything we catch on hot-stones and finish of with some toasted marshmallows.
Mackerel Fishing Trips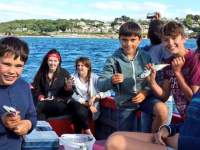 Mackerel fishing trips from Torquay
Our inshore Mackerel fishing trips run daily from the three Torbay ports* during the Mackerel season. Join us aboard our boats 'Funfish 1' or 'Sea Spray III' for a sea fishing trip to remember.
Our experienced captain will show you the ropes and will share with you his extensive fishing knowledge and life experience.
You will likely leave with as many fresh fish as you need, to take home, cook and enjoy; not to mention a giant smile on your face and a memory that will last a lifetime.
What does this fishing trip entail?
We will whisk you away on a 2 hour fishing trip from Brixham (one of the top earning fishing boat harbours in the UK), or Torquay to some of our prime fishing locations. On arrival the engine's switched off and the rods are dealt out! We supply all of our quality fishing equipment for free so that all you have to worry about supplying, is yourself.
Funfish Trips, Kiosk Site 4
(opposite Offshore Bar)
Vaughan Parade, Torquay, Torbay
South Devon, TQ2 5EG
Sunset Cruises from Torquay, Paignton & Brixham…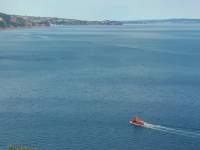 2¼ Hour Cruise, Dinner & a Drink… Sorted!
Join us for an evening cruise like no other… Relax as we cruise around close to the shore line, looking in the nooks and cranny's for wildlife on the way!
Let us deliver freshly prepared Rockfish™ Fish & Chips on board during the trip… We also throw in a free drink – making this the best value trip we have to offer… You'd be mad to miss it!
Cockington Court & Village, Cockington, Torquay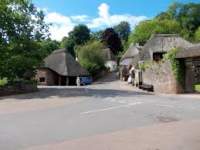 Welcome to Cockington Court - A craft centre with a difference
Cockington Court is one of Torbay's favourite destinations, combining history with present day through a thriving craft centre and a popular programme of events. The site enjoys a growing reputation as a regional centre for quality arts and crafts.
Set in an award-winning country park a mile away from the seafront, Cockington Court is an historic manor house with over twenty craft studios, tea rooms, walled art garden, tudor rose garden, contemporary art gallery and a popular children's play area.
Vigilance of Brixham, Heritage Sailing Ketch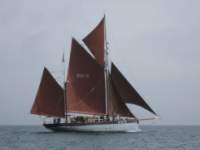 Vigilance is a restored 78 foot heritage sailing ketch based in Brixham, Devon, England. She is ideal for corporate or private charter, either locally in Devon or to France, the Channel Islands or the West Country.
Alternatively, why not enjoy the experience of sailing a classic yacht on one of our local morning, afternoon or evening trips around this lovely part of Devon. Welcome aboard!
NEW THIS SEASON. We are offering these special NEW SAILING EXPERIENCES
Daylong Sails to Dartmouth and return.
Evening Sails.
Special Morning Sails with the added opportunity to join in a Tour of Brixham Fish Market and breakfast at Rockfish Restaurant before sailing.
Torbay Kayak Tours with Reach Outdoors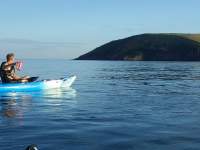 Explore the natural beauty of our coasts and rivers, and learn a new skill along the way.
We use 'sit on top' kayaks, which are stable and user friendly. No experience necessary; allow our British Canoe Union qualified coaches to guide you safely on a journey of exploration and fun!
Get in touch: 01626 873625 or 07816 881 821
or email info@reach-outdoors.com
Kents Cavern
Kents Cavern is one of the most important Stone Age sites in Europe and one of Britain's best showcaves!
On your visit you'll go back to a time when the cave was home to ancient humans, sheltering from extreme weather, making fires, shaping tools and hunting Ice Age animals. As you walk through the extensive labyrinth of caverns, you'll be surrounded by 400 million year old rocks and spectacular stalagmites and stalactites.
Our entertaining cave guides tell the story of a 15 year long Victorian Excavation which uncovered some of Britain's most ancient secrets… All tours around the cave are guided and begin in the Vestibule Chamber, as you enter the cave you'll feel the temperature at a constant 14c. Your tour guide will lead you through the Long Arcade to reveal how the caves were formed 2.5 million years ago and how stalagmite floors formed, sealing in the evidence of Ice Age occupations. Down in the Rockies you'll see stalagmites and stalactites decorating this pretty chamber. Return through Clinnicks Gallery into the Cave of Inscriptions and the Labyrinth to see examples of the earliest tools ever found in Britain, along with bones and teeth of ancient Ice Age animals. Into the Bears Den to experience the famous Kents Cavern blackout, a favourite since the 1930s. Head down the Water Gallery and up to the Great Chamber with its exhibition dedicated to the Stone Age and Victorian excavators... Make sure you check the tour times page to plan your visit to Kents Cavern.
Overland and Kayaking Expeditions, Reach Outdoors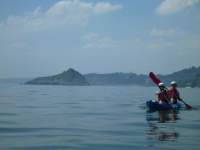 Setting off from the heart of Torbay, Your group will traverse the stunning coastline of Berryhead & Sharkham Point.
Exploring sea caves and spotting wildlife before pitching up at a secluded camp & enjoying a rustic meal of Mackeral and foraged shellfish, cooked on the open fire (sausages & chutney to supplement if they are not biting). A glass of red will help to wash the meal down before a night under the stars on the remote beach. A gentle paddle back the next day to discover all of the sea caves we passed the day previous and to see the seals again. 10 am to 4 pm the following day.
Included in this package you will have access to top of the range kayaks and all relevant equipment (cags, flotation devices, tents etc). You will also have two highly qualified kayaking guides who can coach en route and tell you all about the scenery and wildlife. The evening meal, breakfast and lunch in the second day is included in the price.
Get in touch: 01626 873625 or 07816 881 821
or email info@reach-outdoors.com
Riding, holidays and workshops at Babeny Farm, Dartmoor

Babeny Farm is one of the most respected riding establishments in the area operating for over 30 years, taking rides out onto the open moor.
Riding across Dartmoor is an excellent and easy way to discover the beauty and tranquillity of one of the most natural places in England. We are lucky enough to be able to experience 360 views, cross rivers and explore forest tracks. So whatever the weather a good ride is assured.
If you have never ridden before, why not try now! With our friendly and experienced staff we are sure you will enjoy the experience that Babeny Farm Stables has to offer.
Treks – These are for any ability from complete beginner to the experienced. We try to split rides to ability but all needs will be catered for by the escort if it is a mixed group.
Pub Ride – Whilst any ability can go on a pub ride, as it is approximately 3 hours in the saddle we would advise that some experience is preferable or a hearty confidence and constitution! The ride consists of approximately one and a half hours ride to the pub, approx an hour in the pub and one and a half hours ride home again. The rides leave the yard at 10:30am and returns at around 2.15pm . They are ideal for groups of mixed abilities as all levels of experience can ride together. They are often great fun for a Hen or Stag party. We advise that children should be over 10 years old unless a competent rider.
We look forward to meeting you and escorting you on one of our rides.
Please contact Babeny Stables 01364 631296 for further info.