Places to eat whilst staying at The Cleveland Bed & Breakfast.....
COVID19-PLEASE NOTE: Please visit each restaurant's website, or call them directly, to get the most up to date information regarding their revised opening times, booking requirements, and COVID Secure procedures. To avoid disappointment, pre-booking will be essential.
Three Degrees West

What a great place to spend an afternoon in the sun! Oddicombe Beach Cafe is a big hit with The Sherwood's! Take the Babbacombe Cliff Railway down to the beach and find a spot in the sun on the cafe's terrace!
This is a great spot for families – you can keep an eye on the children playing on this very secluded beach from the cafe terrace. We highly recommend!
Elephant Restaurant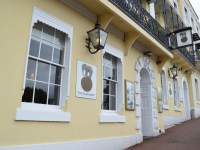 Welcome to The Elephant Restaurant & Brasserie The Elephant is a bright, informal restaurant which overlooks the beautiful Torbay harbour. It was the first restaurant in Torquay to be awarded a Michelin star which it maintains today. We aim to source all our ingredients locally and sustainably, many from our dedicated farm in Brixham.
Run by chef proprietor, Simon Hulstone and his wife Katy. Diners can enjoy a delicious à la carte menu and set menus featuring local and sustainable fish, meat and vegetables, sourced from the surrounding area, in an informal and attractive setting. For an extra special culinary treat opt for the tasting menu.
Expect friendly and knowledegable service without the formalities. All our dishes change regularly depending on which locally grown and reared (many sourced from our dedicated farm) ingredients are at their best.
Rockfish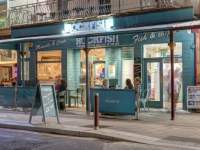 Rockfish restaurant is situated on Victoria parade, overlooking the inner harbour, right in the centre of Torquay. We have 55 covers inside and a small outside covered pavement area where guests can sit and enjoy our seafood.
On colder days the restaurant is heated by log burner, a perfect end to a bracing coastal walk. Seafood is delivered to us daily from the Brixham fish market just across the bay next door to our Rockfish restaurant there
No7 Fish Bistrot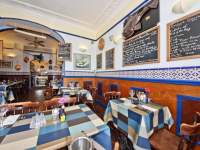 A small family run Bistro style restaurant providing fresh fish and shellfish either from local boats and markets or Scotland.
We are 5 minutes from the town centre and there is ample parking opposite.
We look forward to welcoming you to No 7 Fish Bistro: - Situated overlooking Torquay's harbourside.
No7 is Torbay's only seafood restaurant - Daily special chalkboards - extensive wine list.
Amici
Amici a must for an Italian dining experience in Torquay.
Also owners of the Bianco's Italian Restaurant, the Pettinelli family pride themselves in giving you the finest Italian meal coupled with a great atmosphere.
On The Rocks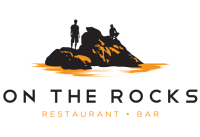 Do you relish the thought of home-grown mussels sizzling in a pan of garlic butter or a tender 10 ounce ribeye steak washed down with a cool glass of Bays? Do you want to wind down from a hard day's work and sample quality, locally sourced and prepared food without worrying if there's a crease in your shirt? And do you find joy in the simple things in life – like the sound of the sea and the scent of salt on the breeze? Then you will love On the Rocks. We're all about sourcing local produce and forging strong partnerships with our suppliers. We want to know exactly where the food we serve comes from and make it our business to personally visit the farms, fisheries and breweries that supply us.
Our head chef Austin may have worked in the Michelin 2-star Ledbury in London, but you'll find no pretentiousness here. We really don't care if you don't know in which order your cutlery is supposed to be in or if you want to roll in from the beach in your flip-flops. Kids and dogs are welcome too; it's all good. We simply want you to unwind and relax in our rustic hand-built seats and enjoy good company, fine food and wonderful views. If you want to know what floats our boat then just come down to one of our Wednesday night Mussel and Prosecco specials where you will hear the gentle strains of acoustic melodies playing out over the bay, and the warm hum of pleasant conversation inside.
Las Iguanas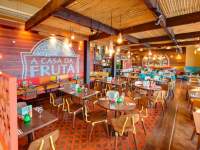 OPENING HOURS Mon-Thu 9.30am-11pm Fri-Sat 9.30am-11.30pm Sun 9.30am-10.30pm
HAPPY HOUR 241 on our favourite 25 cocktails & coolers NOW all day everyday!
Bistrot Pierre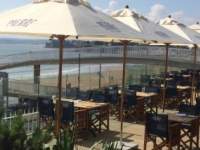 Overlooking the bay, located in the new award winning Abbey Sands complex, our new bistrot can seat almost 200 people, across two floors with an outdoor terrace.
We embrace French culture and love of food and celebrate all that is great about French cuisine. All of our dishes are freshly prepared by our chefs, using a mix of artisan provincial ingredients and carefully selected locally sourced ingredients, in the style of typical continental bistrots.
As well as a restaurant, our bistrot also features a lively bar where customers can relax and enjoy our varied and delicious bar menu, along with a wide range of cocktails, wine and drinks.
The Orange Tree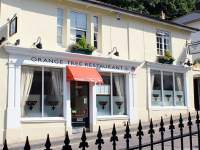 Tucked away just a few steps from Torquay harbour, The Orange Tree is regarded as one of Torbay's finest restaurants, offering relaxed dining within a welcoming and friendly atmosphere.
Owned by Sharon and Bernd Wolf, the husband and wife team provide modern British and European cuisine accompanied by exceptional hospitality. Courtesy, politeness, consistency and the presence of the working owners make The Orange Tree stand out from the crowd.
Inspired by superb-quality ingredients and the abundance of wonderful local produce, Bernd Wolf and his team are passionate about showcasing the culinary flavours the West Country has to offer.
Fish and shellfish of Brixham market, fantastic South Devon beef and free-range duck sourced direct from the farm, are just a few highlights featured on the regularly changing menu.